Star Day 1
In Heathrow a couple of hours pre flight with a Guinness. This pint, a last smoke then security. TV on laptop, music on phone & books on the kindle for entertainment. The plan is to hit the hotel then out to "my brothers" for a few beers.
So what did I forget to pack? I usually take condoms on holiday, more in hope than expectation but I forgot this time so quick stop in boots at the airport for a couple of 3 pack boxes. I should really have checked that the pocket on my backpack was properly closed. Putting the pack in the overhead locker one box of condoms lands in the lap of the girl sitting next to me, the other in the lap of the girl behind. I stumble to think of a less auspicious start to a flight.
Part 1 done. In "My Brothers". Alison works Monday Thursday so I'll miss her yet again. The entertainment at the hotel is watching the nutter getting busted by six squad cars on the other side of the boundary fence. It's only 5000 ft up here but that's enough to make legs weak (air plane seats don't help). 12000 ft on Tuesday could be fun.
Star Day 2
Downtown Denver is real quiet at 6am on a Sunday. Fitness freaks, bums, the terminally jet lagged and a poor girl doing the walk of shame.
6:30 and the mall busses have started and the pan handlers are out.
7am dog walkers and it's starting to get warm.
Overheard on bus. Comic con is in town. Really. That's today sorted. Just listened to an hour of Sheriff Carter from Eureka. Really funny guy. Some of the cosplay was interesting. Specifically the girl in the chain mail bikini. Completely forgot to take a photo. There were loads of comics & artwork for sale but nothing grabbed me.
It's been hot today. Dehydration from the flight, the altitude and the heat are taking their toll. Knackered all day. Tomorrow on the bike at higher elevation should be fun. My Brothers isn't open on Sunday's so having a beer in Paris (Andy's recommendation but not my food)
Star Day 3
Something made me double check the bike shop details for Tourbikes this morning. They've moved. Glad I checked.
Pick up booked for 10am. Turned up to find Bill changing the front tyre on the BMW F800s. Changed into bike gear, luggage transferred to Givi bags, gps fitted and I discover I've forgotten the bag of ear plugs. Luckily I have a bunch in the bum bag, they should be enough.
It's pushing 100 degrees at 11am as I head off. Immediately have to stop for 10 minutes as a train blocks the level crossing. Onto I70 and the breeze takes the edge off the heat. 20 miles west and start to climb into the Rockies the temperature drops to something more manageable. The first view of the snow covered peaks as you crest one pass is stunning. Turn off I70 for Centre City and then wander north to Estes Park for the night. Not a great distance but it lets me get used to the bike and greater elevation before rocky mountain national park tomorrow. Hands are tingling from the bar vibes. I remember this from last time.
The building that made Stephen King decide to set "The Shining" in a hotel is here.
The Silver Moon inn has free bottles of water. Good idea at this elevation. Guinness & burger at the local Irish pub and I'm done by early evening.
Star Day 4
Estes Park is quiet at 5:30. I'd crashed out by 9pm so up early. Bit chilly so a second layer under the bike jacket. Stunning breakfast in "Egg and I" before heading over the rocky mountain Nat park.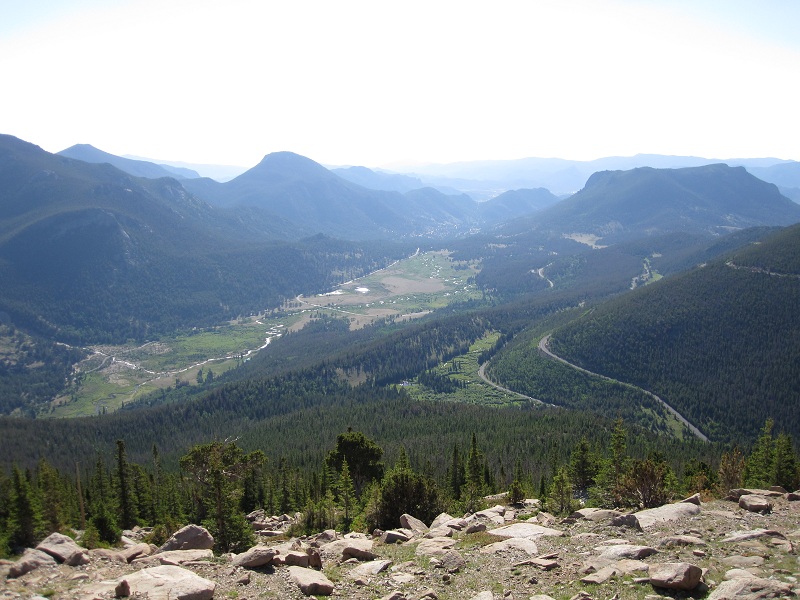 Got bloody cold over 10,000 ft and positively parky at 12,400, the top. The smell of the pine and the views were magnificent.
My riding at elevation was a bit iffy but once down the other side it started to come back. Lack of oxygen will do that I guess.
Wandered west through Granby, Kremmling, Steam Boat Springs and it was only when I turned south in Craig that I realised I'd been on that road before. In the opposite direction on my 2005 trip. Every STAR I've come to I've ended up riding roads I recognise. Either I picked good roads in 2005 or I've ridden every road over here.
Stopped in Meeker for the night at 3pm. 9 hours on the road is enough and this is what I scheduled to get to Avon Friday. Anyway it's getting real hot. Stopped in Meeker for the night.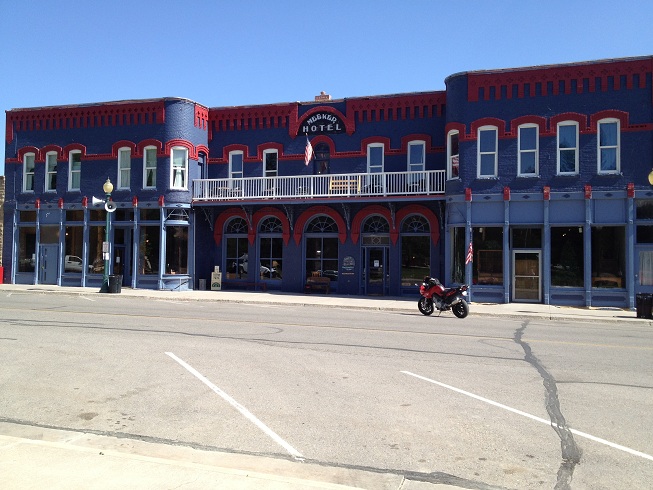 From 50ish at the top of RMNP it was in the high 70s for most of the day but this far west the elevation of the rockys tails off and it's now in the mid 90s. The collar of my jacket is playing hell with the sun burn on my neck so I managed to score a bandana in a second hand store for 50c. And I haven't been carded in a bar yet.
Outside having a smoke and there's this girl taking 4 attempts to park a scooter. Finally stationary she's trying to get it on the centre stand. Seeing me watching she says "this is hard" I go over and point out that the 2 feet of the stand are not on the ground because of the camber of the road. We get it set and on the stand and she thanks me. Back in the bar I realise that when she takes it off the stand it will fall away from her and she won't catch it so I write a note and leave it on her bike. Out for my next smoke and she comes back so I can feel good about helping someone learn bike stuff. She's only had it for 2 weeks.
6pm and I'm the only person in the bar. Strange town.
The town hall has "vote today" signs and vultures flying overhead - an omen?. And I had to show bar staff how to take the plastic off the top of a wine bottle with the point of the corkscrew
Star Day 5
Up and out early again. Again cold until about 10am. It's odd, my back is ok coz of the sun but the cold air hitting my arms & shoulders causes them to tense up. Doesn't make for the perfect ride.
A couple of hours of flattish country the onto the dinosaur highway. Down to I70 near Grand Junction and it's hot enough to lose a layer at around 11. Road works on US50 cause an impromptu detour onto a road that's not on my gps. Pick up 141 south and spot the sign "no gas for 79 miles". Sounds good.
Approaching Gateway the mesa and buttes become more pronounced and having turned south the red cliffs start. You can tell you're close to Utah.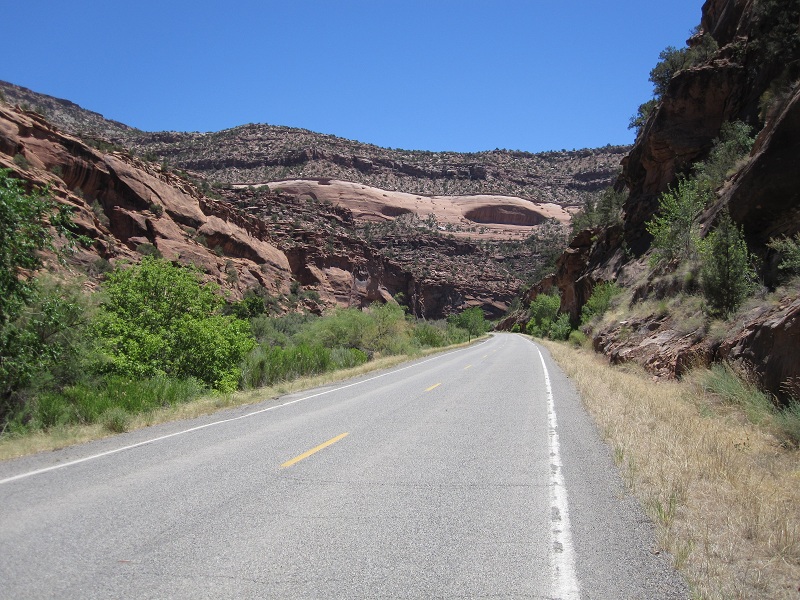 Stunning curves through a red cliffed canyon before the road rises and the river is 'down there' with no crash barrier. Stopped to see a 'hanging flume'. Some nutters spent 3 years building a flume to get water to their gold mine some miles of which are along the cliff wall above the river. The mine lasted 3 years with low yields.
Looked at stopping in Telluride but, again, there is a festival there. Given that I'm here the same time as two years ago it shouldn't surprise me. Finally stopped in Ouray at 5pm. A long and mostly hot day. Staying in the Beaumont hotel. Not cheap but a beautiful establishment. A Guinness or three then shower then eat.
Question. How do I get a sun burned forehead wearing a full face crash helmet? Happens every time.
Just talked to a couple of brothers in the bar. The one from Ohio is leading a field trip just down the road and it's his 50th today. The older brother lives in Montrose, 35 miles up the road. A happy coincidence. Not sure I want my sister to be at my 50th coz that means they've had to cancel the annual France trip.
The wireless in the Beaumont sucks. Shoulders still tight after Guinness & shower. Been sleeping fitfully so going for beer & crash, see if a night of dead helps.
Star Day 6
That hotel was overpriced for what you got. And the breakfast wasn't much cop. The town is on a hill so parking the bike last night was fun but not as fun as getting on and going this morning. If only I had longer legs. Didn't need the extra layer this morning. A little chilly but ok.
Up to Montrose then right to the Black Canyon of the Gunnison national park for most of the morning.
Last time I was there it was foggy & I ran over and killed a squirrel. Sun burned to hell and back. My forehead has started peeling.
Over Monarch pass. Did feel weird on the top. Mixture of 11,000ft and the sunburn.
Up to Leadville for the night and in another 'local character' hotel, the Delaware.Town centre and old. One of the original town buildings. I like the fact I've not stayed in a 'chain' hotel since leaving Denver. I'm only about an hour from Avon over a major pass so not an early start tomorrow and it will be cold on top.
Star Day 7
Too much beer last night so not an early start. Being at 8,800ft didn't help me feel any better. A short run over the mountain and I'm in Avon.
Starting to see bikes and faces I recognise. Checked into Christies Lodge, visited the beer shop, and managed a brief FaceTime with home. weather shitty at home with flooding. Today we have a cloud.
Helped stuff the envelopes with all the paperwork that's handed out at registration and sort out the door prizes. Woovis turned up at around 5pm so that's beer o'clock. Spoke to Pam and promised I'd look after him.
Coach took Woovis and me down to the next town to hit a brew pub (he broke his bike the day before leaving for Star so is picking up a rental from Tourbikes Sunday). The evening finished with beers in the hotel foyer.
Star Day 8
Little hung over. After coffee on the balcony wandered the through hotel looking for breakfast. Caught up with a few old friends. Laundry running and waiting for the event registration to start. Got checked in and spent the rest of the day chatting with old friends, drinking beer and the occasional pizza.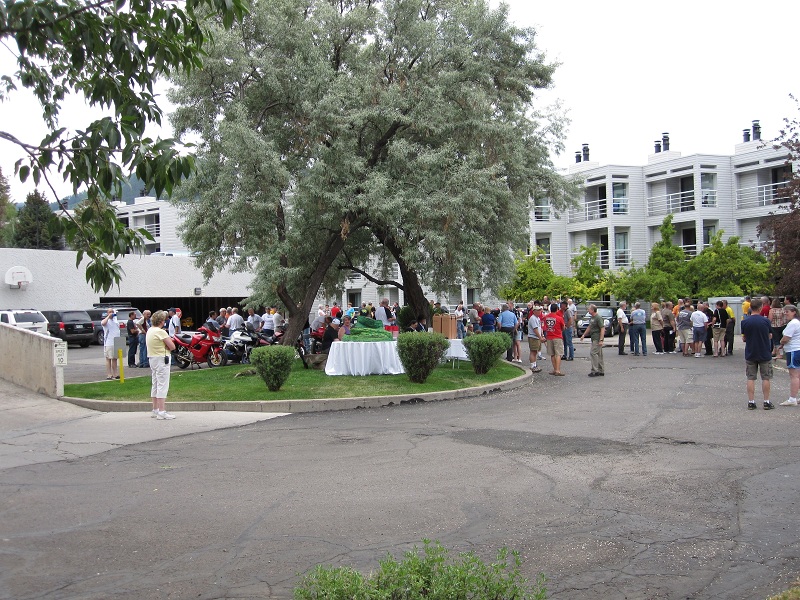 Star Day 9
Coffee on the balcony. Breakfast from subway.
Woovis & I did the Steamboat Springs loop. Good running. Opening of star = food & beer outside.
No smoking outside city limits unless in a car with windows closed. Bears will roam car park looking for food.
Drinking till late.
Star day 10
Hung over. Bad news from home. Not in the mood to ride this morning.
Did the short 3 passes run (90 minutes) and washed the worst of the bugs off the bike. Shower, lunch & beer run now Showered and at Bob's for lunch. Mac and rubber for the evening meal on a restaurant terrace.
Star Day 11
Lunch ride day today. Quick Subway breakfast & on the road by 08:30. Bill Rusk, Woovis, me and John Sr. Bill leading is always fun.
"No idea where we are but we're making good time" and "I recognise this place, I bin lost here before". 100 mile blast down I70 and if you have to run slab that section of I70 may well be the best bit of interstate. Beautiful short cut down 45 1/2 the on to Ole Bakery.
It was getting hot so we decided to take the long way home where it got even hotter, touching 100. Mclure pass was fun. Carving curves on a new road with good friends in beautiful scenery, this is why I ride motorbikes. Back at Avon for 16:00. The treatment of speed limits is interesting. Interstate with a 75 limit run at 80 and in a 40 limit I saw 92. Beer on the porch and deciding where for the evening food. Bob's place for food and beer in the back lot with the St. Louis crowd.
Star day 12
A down day. Coffee on the porch and chats with passersby.
I again failed to win a door prize but Woovis scored a tank bag, John Sr. a torch and Bill a quart of oil. Laundry, gentle lunch and think about packing as the banquet approaches.
A bunch of local guys dropped into the hotel to find out what was going on and we may have some new members soon.
So what is it with my face? It's the banquet tonight so my forehead decides to erupt in spots.
Well Woovis is doing well; he got an olins front end suspension gift. The food was ok but not a patch on Taos. It's odd, strange and sad walking round saying goodbye to folks I see every few years, folks I don't really know but the bike thing we have in common makes us family. I really know nothing about Andry but every time we meet we laugh, Stephen sashays around and is always good fun, even with that hat. The number of "come visit" offers is overwhelming and so many others I've chatted to make this feel like a family buy equally there are so many more at the banquet that I don't know it feels like I'm just scratching the surface.
Star day 13
Up at 7 to say goodbye to the boys as they start their long trip cross country. Then back to bed for a couple more hours.
Spent 10 minutes looking for the bike key till I thought of looking in the bike. Not an auspicious start to the day. Breakfast pack and loaded.
I'm knackered, my shoulders hurt, I'm tired. I'm really not used to being on a bike, not after so little riding last year. Going to head half way to Denver for the night but it's cold, it's raining and I'm tired. Stopped for fuel and riding between the pumps I remembered the luggage was on the bike a little too late. The left bag scraped a pillar threw me sideways a little too far to catch and, at 2 mph the bike was on the ground. This is not a good day. Phoned Bill and arranged to drop off the bike a day early. Bill charged $100 for the damage to the brake lever, bar end and mirror all of which are scraped. Seems fair.
Taxi to tomorrow nights hotel hoping they also have a room for tonight. It turns out it's the same hotel as two years ago. As the taxi pulls up at the hotel the driver hits the high kerb, destroys the hub cap and flattens the tyre. So not just a bad day for me then. Quick shower and out into downtown. The taxi is still sitting outside the hotel with a flat.
Couple of blocks up 16th st mall is Katie Mullen's, an Irish bar so a Guinness is in order. The girl behind the bar pours the first part of the pint and puts it in front of me, wanders off, comes back & tells me the price. About 10 minutes pass before I ask "excuse me, is this it or do you plan to top it up"? She apologies. A genuine mistake. Not her day either.
Just remembered it's Thursday. One of the days that Alison works at "my brothers" bar. Hopped the free 16th st. mall bus to Lodo, cross the bridges to Platte and managed to catch up with her. She was a little weirded out by my turning up. A few beers and back to the hotel for a long soak in the bath to try and unknot my shoulders.