A SERMON ON ETHICS AND LOVE
One day Mal-2 asked the messenger spirit Saint Gulik to approach the Goddess and request Her presence for some desperate advice. Shortly afterwards the radio came on by itself, and an ethereal female Voice said YES?
"O! Eris! Blessed Mother of Man! Queen of Chaos! Daughter of Discord! Concubine of Confusion! O! Exquisite Lady, I beseech You to lift a heavy burden from my heart!"
WHAT BOTHERS YOU, MAL? YOU DON'T SOUND WELL.
"I am filled with fear and tormented with terrible visions of pain. Everywhere people are hurting one another, the planet is rampant with injustices, whole societies plunder groups of their own people, mothers imprison sons, children perish while brothers war. O, woe."
WHAT IS THE MATTER WITH THAT, IF IT IS WHAT YOU WANT TO DO?
"But nobody Wants it! Everybody hates it."
OH. WELL, THEN STOP.
At which moment She turned herself into an aspirin commercial and left The Polyfather stranded alone with his species.
CHAPTER 5: THE PIONEERS
=THE FIVE APOSTLES OF ERIS =
= & WHO THEY BE =
1. HUNG MUNG
A Sage of Ancient China and Official Discordian Missionary to the Heathen Chinese. He who originally devised THE SACRED CHAO. Patron of the Season of Chaos. Holyday: Jan 5.
2. DR. VAN VAN MOJO
A Head Doctor of Deep Africa and Maker of Fine Dolls. D.H.V., Doctor of Hoodoo and Vexes, from The Greater Metropolitan Yorba Linda Jesus Will Save Your Bod Home Study Bible School; and F.I.H.G.W.P., Fellow of the Intergalactic Haitian Guerrillas for World Peace. Patron of The Season of Discord. Holyday: Mar 19.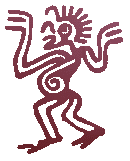 NOTE: Erisians of The Laughing Christ sect are of the silly contention that Dr. Mojo is an imposter and that PATAMUNZO LINGANANDA is the True Second Apostle. Lord Omar claims that Dr. Mojo heaps hatred upon Patamunzo, who sends only Love Vibrations in return. But we of the POEE sect know that Patamunzo is the Real Imposter, and that those vibrations of his are actually an attempt to subvert Dr. Mojo's rightful apostilic authority by shaking him out of his wits.