Climb into the Chao with a friend or two
And follow the Way it carries you,
Adrift like a Lunatic Lifeboat Crew
Over the Waves in whatever you do.
(HBT; The Book of Advise, 1:3)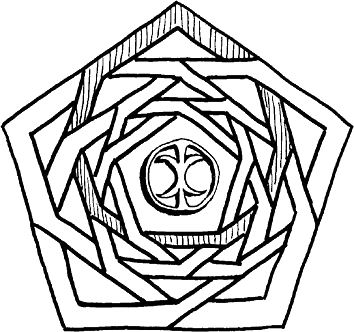 NO TWO ELEMENTS INTERLOCK
BUT ALL FIVE DO INTERLOCK
Meanwhile, at the Chinese laundromat...
DOGMA I - METAPHYSICS #2, "COSMOLOGY"*
THE BOOK OF UTERUS
from the Honest Book of Truth revealed to Lord Omar
1.Before the beginning was the Nonexistent Chao, balanced in Oblivion by the Perfect Counterpushpull of the Hodge and the Podge.

2.Whereupon, by an Act of Happenstance, the Hodge began gradually to overpower the Podge -- and the Primal Chaos thereby came to be.

3.So in the beginning was the Primal Chaos, balanced on the Edge of Oblivion by the Perfect Counterpullpush of the Podge and the Hodge.

4.Whereupon, by the Law of Negative Reversal,** the Podge swiftly underpowered the Hodge and Everything broke loose.