Mac's Bikes
I passed my bike test in the summer of '97. About a month before I sat the test I bought a Kawasaki GPZ500S from a guy at work. An excellent first bike, it got me to Lands End (three days after passing my test) and to Scotland and back the following summer
.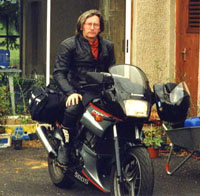 In July of 1998 I was visiting a friend in Dorset who was having problems with her Diversion so I gave her a lift to Bransons of Yeovil. I was sitting around outside the shop having a smoke when Chris (one of the salesman) wandered out of the shop and said that he knew what I wanted. I wanted a bigger bike. To be honest, I hadn't thought about it, but Chris produced a key, pointed to a second hand VFR750 and told me to take it for a spin. I'd never test ridden a shops bike before and was a bit unsure about it. Chris recommended a 15 mile circuit that had A roads, B roads and some dual-carriageway so I went for a play. The difference in power was stunning though I was a nervous about the height, being a short-arse. Before I got back to the shop I'd decided that I wanted it, but Chris was having none of it. There were 4 second hand VFRs in the shop and we had a long discussion about which was best (age vs. price). I settled on a rather nice teal VFR750FR so Chris insisted that I test ride it before signing anything. The ride back to Surrey on the GPZ that evening was horrid after the VFR. Two weeks later, back in Yeovil I picked up my new baby.
Ten days later, on the way home from work, a jeep braked hard in front of me when I was watching a cute girl go the opposite direction on a Harley. When I looked forward again I was gaining on the back of the jeep rapidly. I hit the brakes, the front forks bottomed out, the front wheel skidded and (as far as I can tell from memory fragments and bike damage) the bike went down on it's right side, bounced and highsided me.
This is based on circumstantial evidence. I remember the bike going down to the right and the right hand side plastic was all shattered. I recall skidding down the road in front of the bike and when we came to rest, the bike was on it's left side with all the plastic on that side scraped.
I crawled over to the bike and switched it off to shut the horn up (both bars were against the tank) before I even thought about standing up. Damage to me - Bruised right thumb (caught between bar & tank) and badly bruised left leg (I have no idea how). Had I not been wearing good gear (Scott jeans, Rhino jacket, Gaerne boots, RS gloves, Shoei lid) I hate to think how I would have ended up, as it was, I walked away. Well limped actually. Damage to the bike - every panel broken, radiators destroyed and loads of dents and dings. An insurance write off.
It's a real shame I didn't take any photos before I threw it down the road.
But that didn't put me off ! The day that the insurance money came through I phoned up Bransons of Yeovil and said "Remember that VFR I bought from you. Got any more" I was informed that there was a nearly new 800 that was about to be traded in. Six months old with 1,500 miles on the clock. It seemed that the owner had changed his mind and wanted the new CBR6 instead. His loss was my gain.
I took some photos the day I got it home, just in case.
Since then I have covered 28,000 miles (Sep 2000). A week in Scotland, a week in Germany and France and somewhere in the UK almost every weekend. (2000 summer holiday was to Hungary and Croatia - see write up below). I have added a Baglux tank cover and bag (excellent buy) a Givi wing rack (great when your touring) and a Motrax oiler (similar to the Scotoiler).
My current bikeing hangouts are mostly with the Wiltshire Honda Owners Club and with the Honda UK Riders Club e-group (so that's two weekends in every month). The other two weekends I'm usually out around Wiltshire and surrounding areas. Drop me a line if you're in the area and fancy a blast.
July 2000
This last month I have a) done the Ron Haslam race school at Donington (which I would recommend to anyone) b) Had my first, and certainly not last, visit to the Nürburgring, specifically the Nordschleife and c) done a Honda MAC course. So all in all a quiet month.
The other real bike event this month is - after some fun and games at the Nürburgring I have decided that I need a bike that is better on corners than the VFR. Don't get me wrong - I love the VFR and covered thousands of miles but scraping bodywork till the rear wheel lifted was never really part of the plan ... So
My new baby. A Honda CBR 900 RR-T.
Like corners ? - Loves them !
September 2001
I visited the Nürburgring 5 times this year as well as a trip to Spain and loads of weekends round the UK. All the trips were on the 'blade so the VFR didn't cover many miles at all, where as the number of miles (some of them at serious speed in Germany) was taking it's toll on the 'blade. I'd had the blade suspension set up by set-up engineering in Wandsworth (and I can recommend them) but bits were starting to fall off it.
What to replace them with ?
Something I could take on a track, but equally, something I could tour on.
That sounds like a 2000 'blade.
November 2004
After many fun filled miles on the trusty 'blade, including touring in Spain, France, Switzerland, Italy, Austria & Scotland I am (semi) forced to part with my baby. Much as I love her, she won't be up to the next trip.
Six months on the road - North America and New Zealand - so something with hard luggage was required.
2000 VFR. The second fuel injected model, pre-VTEC.
Modifications since this photo was taken include Givi wingrack and crash bungs.