Into Boston at midday
8 hours to kill before the flight to Vegas.
We hopped a cab into town and hit the shops. Loads of expensive stuff (like Gucci) there - but who needs that kinda junk:-)
Another 6 hour flight saw us in Las Vegas at midnight (8 am our time). A couple of hours sleep on the flight and another 5 in Vegas and we're in McDog having breakfast at 06:30. Vegas is like a computer game. You step out of real life & play (well - throw away money).
A wander through a few casinos before heading back to change and taxi to Street Eagle to pick up the bikes.
Guess we should have checked what time the shop opened rather than just turning up at 10.
There was a bar & grill across the road where we able to kill a couple of hours till the shop opened.
I usually get a bit nervous before getting on a new bike - but not this nervous.
Maybe it's the size, maybe it's that it's not my bike, I don't know, but I didn't enjoy taking it round the block first time.
Once the luggage was strapped on I went round again.
Maybe it was Paul saying "I'll have nothing left of my boots if I keep scraping them on corners", I don't know but I went for it and it was OK in a sort of 'bike designed by an Orangutan' sort of way. The pegs are in the correct position only in that they are attached to the bike. Your right leg rests on the exhaust pipe unless you put your feet on the end of the pegs. The gear lever is nicely curved, which means that I can get my foot under something to change up, as the peg is too far away.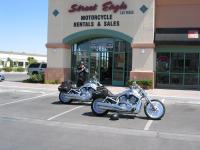 Anyway - on the road. After the first mile I know I have to stop. I need to tighten the straps on the silly skull cap helmet as it is threatening to blow off when the wind catches it, and I need to pull my scarf over the bottom half of my face before the sand wears it away!
Another problem that caught me unawares is my eyes streaming at speed. They are protected by only my glasses and at times I can't see a damned thing (which is interesting in the same way that a car crash is). Over 80 the wind threatens to tear my head off and the insects make dents in my forehead.
The fuel system is a little odd. There is a fuel gauge and a display of how many miles you have left in the tank but both seem to point at random numbers and are as likely to go up as down.
Fuel stop (which looks like the first of many) in Mesquite.
There is a sticker next to the fuel filler "Check the oil every time you fill with gas".
If you purchased a vehicle with such a sticker - how much confidence would it give you in the quality of the engineering.
My Honda Fireblade never needs oil between 4000 mile services.

St. George for the night. It's good to get back to a Taco Bell.
140 miles for today.